Coventry's Lady Godiva statue to be turned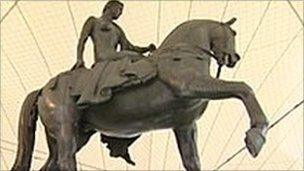 Coventry's Lady Godiva statue could be rotated by 90 degrees back to its original position.
The statue, in Broadgate, was originally turned away from the Peeping Tom clock during the city's Cathedral Lanes development in 1990.
Under plans to redevelop Broadgate, the council is considering turning it back round again.
In folklore, Peeping Tom was the only person to look at Godiva as she rode naked through the city.
The city council has said turning the statue back round is just one of the options it is considering as it redevelops Broadgate in preparation for the 2012 Olympics.
Coventry will be hosting some of the Olympic football games at the Ricoh Arena.
The statue, put up in 1949, was originally turned around when the Cathedral Lanes shopping precinct was being developed so Godiva could look down upon the Lower Precinct.
But with the redevelopment, the council said it felt it would be more in context if the statue was turned back.
Lady Godiva, the wife of Leofric, Earl of Mercia, reportedly rode naked around the city in a bid to get her husband to reduce taxes in the 11th Century.
The story of Peeping Tom, the only man to look at her as she rode around, was added to the legend later.
Related Internet Links
The BBC is not responsible for the content of external sites.