Murder accused from Leamington Spa 'tracked near body'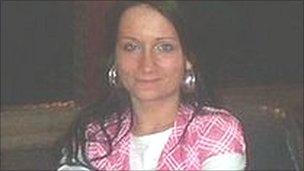 A Warwickshire man accused of raping and killing a woman was shown by a tracking device to be in the area where the body was found, a court has heard.
Police became suspicious of Piotr Moczulski, 26, after the disappearance of Elzbieta Kinczyk, who was found in a field near Leamington Spa in June 2010.
Mr Moczulski said he went to the scene where the body was found because he wanted to kill himself.
The accused, of Leamington Spa, denies murder on 6 June 2010.
The body of Mrs Kinczyk, 23, from Leamington, who was known as Ela, was found in a field near Windmill Hill Lane later that month.
Mr Moczulski was asked by the prosecution why he had taken a spade with him to the location and why he left it there behind a fence when he left the scene at about 2300 BST on 16 June.
Fabricated evidence claim
The defendant said he threw it from the car.
Mr Moczulski's vehicle was near the scene where the body was found, at about 1830 and 2245 BST on 16 June last year, according to a police tracking device which had been placed on the vehicle, the court heard.
The prosecution at Warwick Crown Court has also been cross-examining the defendant about his movements on the morning of 6 June last year.
It was put to Mr Moczulski that his account of his movements was not backed up by the evidence.
Mr Moczulski has told the court he met Mrs Kinczyk before she left for an important meeting.
CCTV evidence showed he drove off in his car with a passenger in the front, the prosecution said.
Mr Moczulski, from Newgale Walk in Leamington, denies this and claims police fabricated evidence.
Related Internet Links
The BBC is not responsible for the content of external sites.