Coventry family call for review over fake teacher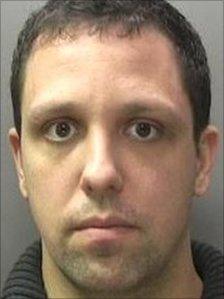 A Coventry family is calling for a review of how teaching agencies are used after their son was abused by a paedophile posing as a teacher.
Steven Bartlett, 33, has been jailed indefinitely and placed on the sex offenders register for life.
The boy's father, who cannot be named for legal reasons, said Bartlett faked his qualifications and then set himself up as an agency.
Coventry City Council is to discuss the case with the boy's parents.
Bartlett carried out the abuse from 2009 to 2010 in Coventry.
He pleaded guilty to eight counts of engaging in sexual activity with a child at Coventry Crown Court on 7 April.
He also admitted one count of inciting a child to engage in sexual activity and two counts of fraud relating to posing as a qualified teacher and faking a burglary at his home in which he claimed goods worth £60,000 were taken.
He was jailed for the public's protection and told he would serve a minimum of two-and-a-half years.
The boy's father said his son, who was aged 14 and 15 at the time of the abuse, was in an especially vulnerable position because he has learning difficulties.
He said: "We didn't know anything had happened until we had a call from the police that our son had reported the abuse to them.
"We were horrified, just in total shock, especially that it could come from someone in a position of trust."
He said he had been told an agency had originally found Bartlett work at the school as a teaching assistant but then he set up his own agency and returned to the school as a supply teacher using fake qualifications.
He said a review should be carried out to make sure lessons were learnt from the case.
A spokesperson for Coventry City Council said: "This has been an unfortunate incident that has occurred even though all procedures and guidelines have been followed.
"However we are anxious to learn any lessons that help ensure that this despicable event could not happen again. We are very willing to listen to the views of parents and a meeting has been arranged with the parents of this case.
"We constantly monitor our procedures and make changes whenever we feel they are necessary."
Related Internet Links
The BBC is not responsible for the content of external sites.