Celebrations in Coventry as Vaisakhi festival begins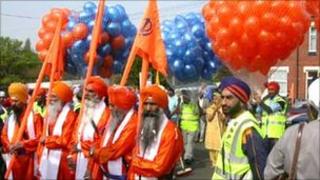 Thursday marks the start of the Sikh festival of Vaisakhi.
Celebrations have already begun in Coventry and will culminate on Sunday 24 April with a parade which up to 10,000 people are expected to attend.
Vaisakhi marks the start of the Sikh new year, the creation of Sikhism and the harvest festival in India.
The day, which began with early-morning prayers at the city's temples, continues into the evening with food and celebrations.
Gurdeep Shergill, executive member of the Guru Nanak Parkash temple, said: "We're very lucky because all communities along the parade give food and refreshments, so everybody's welcome to come and join in.
"What we do like to think is that it's for the whole community.
"We like to get everybody involved, that's one basis about the Sikh religion.
"We have a lot of non-Sikh members volunteering and helping out."
The parade, also known as Nagar Kirtan, will begin with a donation ceremony. Money raised on the day will go to British charities.
It will be led by five Sikhs in traditional dress with others playing drums to announce the parade.
The route begins in the car park of the Gurdwara Guru Nanak Parkash and will take in other temples and streets including Howard Street, Stoney Stanton Road, Foleshill Road and Harnall Lane West.