Wife's chapel surprise attracts international pilgrims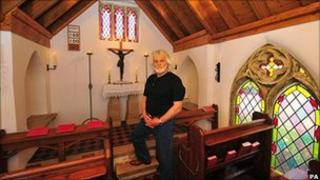 Three floodlit crosses on a hill near Mappleborough Green are attracting international attention this Easter.
The crosses, near a small homemade chapel on the Warwickshire-Worcestershire border, are attracting international pilgrims to the annual crucifixion re-enactment.
The chapel and crosses were originally created by Jon Richards as a surprise for his wife.
They now welcome visiting Christians to stay at the neighbouring guest house.
Crucifixion re-enactment
The simple act of placing crosses on Mr Richards' hill has developed into a large event for Mappleborough Green.
On Good Friday the centre cross is taken down to be walked through the fields by a congregation re-enacting the crucifixion and following the Stations of the Cross.
Mr Richards said: "It's an awesome sight as well as being a very moving service. It reduces many people to tears."
Chapel of love
Mr Richards built the 12-seater chapel next to his home using materials collected from reclamation yards around the country. He explains: "The chapel was a surprise for my wife, Muriel. I pretended to be making a greenhouse at first.
"Even though it's brand new, everything in the chapel was either from a church or a chapel. The pews and the alter had many prayers prayed over them over the years and that becomes spiritual by the very nature of the history of the items inside."
The local vicar suggested the name The Chapel of the Crosses, in honour of Mr Richards' tradition of erecting Easter crosses.
Mr Richards has also been approached by groups of clergy interested in using the site as a spiritual retreat.