Royal wedding could be shown on Coventry's Big Screen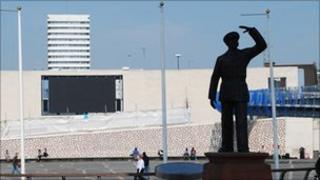 The royal wedding on 29 April could be the first event shown on Coventry's Big Screen in Millennium Place.
Coventry City Council, which co-manages the screen with the BBC, hopes to use Prince William's wedding to Kate Middleton as a test broadcast.
A full-scale event is not being planned, but the broadcast will mark the start of a programme of activities.
The Big Screen will show live coverage and news relating to the Olympic and Paralympic Games in 2012.
The raised Millennium Clock artwork beneath the screen is expected to be removed before any major event.
Bringing investment
Martin Vickery, from Coventry City Council, said: "We are hoping it will be ready and the royal wedding will be shown on there, as that will be the ideal opportunity to show what the screen can do.
"The atmosphere here could be fantastic with 6,000 people all together here for the bigger events. It will bring investment from outside the city."
Other cities that already have a Big Screen include Bristol, Birmingham, Swansea and Leicester.
Concern about the safety of walking on the raised Millennium Clock, beneath the Big Screen, means the council is likely to remove and reposition the artwork.
Head of city services at Coventry City Council, Martin Yardley, said: "We've got to look at how flexible that space is and interestingly, when asked whether people would be happy about covering or removing the clock, nine out of 10 said we could remove it.
"It does cause us issues around the square in terms of its usability because it's a trip hazard."
Despite this, he is confident the screen is in the right location.
He said: "The beauty of that square is that it's so big. It can accommodate upwards of 6,000 people."
The London 2012 Organising Committee is a partner of the Big Screens and the installation in Coventry is in readiness to become a "live site", showing live coverage and news relating to the Olympic and Paralympic Games.
The screen, which measures 8m by 4m, will also show BBC News and videos of community events and partnerships with other arts and media organisations in Coventry and Warwickshire.
For some events, viewers will also be able to send in text messages and images and play with interactive games.