Coventry band Lipshock to launch debut album and tour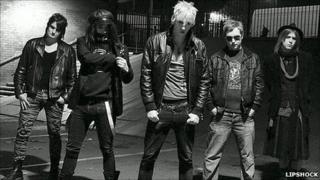 Coventry band Lipshock are the BBC Coventry & Warwickshire Band of the Month for May.
They are due to launch their debut album on Monday, 23 May and will also be touring on the back of the release.
It will be published on a new Coventry label, Ghoulish Records, with a launch night at the Coventry club the Kasbah.
The five-piece band formed in 2007 and take their influences from bands such as of Velvet Revolver, Motley Crue and Guns N' Roses.
Something Rotten
Lipshock describe themselves as: "Five Coventry boys who write trashy, catchy, sleazy rock 'n' roll songs, and never stand still when there's a stage and an audience to show off to!"
Most of them knew each other as friends and through friends but, according to the band, they found drummer Woodsy by asking strangers in bars if they could play the drums.
Talking about the band's history, they continued: "We wrote a bunch of songs and played our first load of shows as a four-piece under the name Something Rotten before we came up with Lipshock.
"We became a five-piece not long afterwards when Wurzul, who was fronting a band called Fancy Nancy, left them and joined us on guitar. Once all five of us were in, we hit every venue that would take us!"
Wet hay danger
They approached a variety of venues and one gig even involved a stage made from wet hay.
This bad combination led to the hay electrocuting guitarist Johnny at the end of the band's set.
However, they are more positive about 2011. They conclude: " We're gonna get on tour to promote the album, spread the word as far as we can, and carry on having the most fun you can have with your undies on!"