Coventry abandons fake flowers trial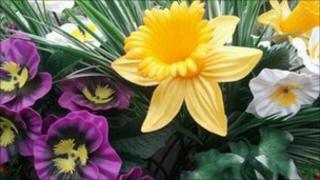 Officials in Coventry have been told to remove fake plastic flowers from two roadsides which were installed as part of a money-saving scheme.
The city, which won a gold award in the Heart of England in Bloom competition last year, has a number of floral displays planted by the council.
Officials decided to use fake flowers in four planters in London Road and Sky Blue Way as a trial.
Councillor Lindsley Harvard said he had ordered the flowers to be removed.
The councillor, who is in charge of city services, said the trial had been unofficial.
The flowers were in place for four days but were spotted on Wednesday and removed later that day.
They were meant to enhance main routes into the city ahead of the 2012 Olympic Games, when several football matches are due to be played at the Ricoh Arena.
'Absorb grime'
Tracie Turnbull, a Coventry florist, said: "I'm a big believer in fresh plants and for the city it's important that we present ourselves well, especially on such an arterial route.
"Plastic plants can look tacky, they fade with the sun and absorb the grime."
Andrew Walster, senior council officer, said the trial had provided "interesting" feedback.
He said: "It's interesting to see people's views. Many people didn't realise they were fake.
"But Councillor Lindsley is the cabinet member and we removed them at his request.
"It's very unlikely we'll ever use them again because of the feedback we've had."
He added one of the reasons for the trial was because the flowers were on a busy road where it was dangerous for council workers to water and maintain plants.
He said: "We were also looking forward to 2012 and getting the city looking its absolute best.
"This may not be the solution."