Secret Millionaire winner praises God for rehab vision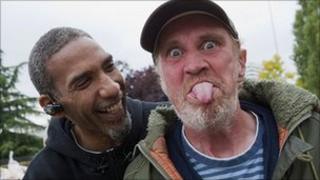 A former drug addict has praised God for his vision of turning his home into a rehab centre, with the help from a secret millionaire.
Kervin Julien works at the Salvation Army headquarters in Coventry and runs a charity called Anesis.
The charity, funded by Northpoint Church, provides vulnerable people with practical food and clothing needs, in addition to offering spiritual and emotional support.
Mr Julien, a former crack cocaine addict, said raising awareness is an additional aim of their work: "I want to change people's perception about God's people. God loves everybody and that's the message we want to send out."
Surprise donation
On 24 May, this message will have an unexpectedly large audience as the charity features on Channel 4's programme The Secret Millionaire.
Mr Julien does not watch the programme and had no suspicions when he was asked to help a trainee journalist at the centre of a new television series about career changes. He later learned this was life-coach millionaire Sue Stone, posing as a trainee.
Ms Stone shadowed Mr Julien and heard about his ongoing work with hundreds of vulnerable people in Coventry.
At the conclusion of the filming, she gave the charity £15,000 and afterwards told BBC Coventry & Warwickshire: "Kervin Julien is an amazing man. He was homeless himself. He's totally turned his life around."
'God has made this personal'
Mr Julien was shocked by the donation and is now making plans to expand his work: "Me and my wife have been given a vision - God has firmly implanted into our hearts - this money has to be used to change the lifestyle of these individuals.
"God has made this personal; we want to turn our home into a rehab centre. We are thinking about selling our house, buying a bigger property and using our family as their family.
"We want to be able to pick up people off the streets who are troubled and asking for change in their lives. We can invite them in, extend our family to them and help them restructure their lives."