First puppies at Guide Dogs National Breeding Centre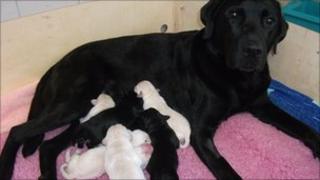 The first puppies have been born at the new Guide Dogs National Breeding Centre in Warwickshire.
Guide dog Helga gave birth to five puppies at the Bishops Tachbrook centre on 21 May.
The charity's breeding operations moved to the centre in early May and it will open to the public later this year.
Carol Warner, interim head of the centre, said it aimed to pair 900 dogs with owners annually by 2015.
"It will help us to meet our challenging aim of ensuring all blind and partially sighted people can enjoy the same freedom of movement as everyone else," she said.