Coventry band Bad Horse are making their mark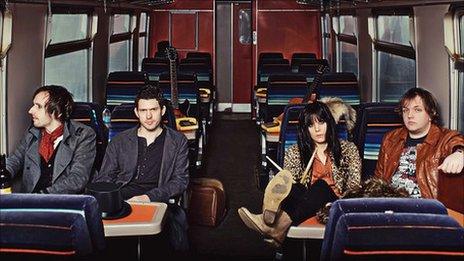 Coventry band Bad Horse are the BBC Coventry & Warwickshire Band of the Month for June.
The relatively new act have filled the time they have been together with gigs, an EP launch and have certainly made their mark on the local music scene.
The four-piece were all part of other bands before Bad Horse were born, including FireGold and Knockout Ned.
Following the launch of their debut EP, they are working hard to get their name out there.
If you could use one word to describe Bad Horse and their music, it would be "dark".
Speaking about their influences, it is clear that they all have their own individual tastes: "Musically, Joanne is inspired by The Dead Weather/other things Jack White, along with the raw rocky and grungy artists such as The Kills, Sonic Youth, PJ Harvey and The Doors. Tom gets inspiration from The Stooges, The Dead Weather and Joy Division."
The nod to Jack White's Dead Weather and White Stripes hits you immediately; not just the fact that they have a female band member, but repetitive riffs and a strong rhythm section is the backbone to their songs.
However, the fact that they have a frontwoman is also something that sets this band apart from others on the local scene.
Apart from singer-songwriters, there aren't a great deal of female electric - in a musical sense, but also dynamic stage presence - performers in Coventry and Warwickshire.
Joanne is also the main songwriter of the band and the lyrics are very complex and poetic. She said: "We are inspired by life music, film, perhaps any art form. We can't help but seek this inspiration out and it is incredibly important to Bad Horse to use this to attempt to create the most driven songs and edgy performances."
Earlier this year, the band released their debut EP on La Nouvelle Mode Records, a label that is run by Joanne and guitarist Tom and which combines art and film with the music.
They launched the self-titled disc in style with a night at The Tin Angel, and support came from The Moonbears and Terror Bird. Keeping with the style of the band, they documented the night in the form of a short film, which can be found on YouTube.
It shows that the band are more about creating a show than just a concert.
Talking about their future, the band concluded: "We want to play more and bigger places, get ourselves onto festival circuits, reach more people, gain more recognition, become better established and to better ourselves in new songs."
So, if you like your music with an artistic angle and image, then head to your nearest local music venue as Bad Horse are in town.
Related Internet Links
The BBC is not responsible for the content of external sites.