Coventry city centre fight: hundreds dispersed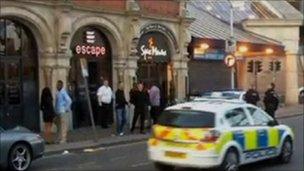 Five men have been arrested over a mass brawl in Coventry which started after fighting between two men inside a nightclub spilled on to the streets.
Police were called to disperse a crowd of about 300 people outside the Escape Club in Hales Street at about 0400 BST.
Dog handlers and a helicopter were deployed and the area was cleared by about 0500 BST. One officer was hurt.
BBC Coventry & Warwickshire presenter Marian McNamee, who witnessed the brawl, described a "swarm" of people.
One of the arrested men is from Essex, two are from London and one is from Northampton. It has not been confirmed where the fifth man comes from.
One of the men is said to be recovering in hospital.
West Midlands Police said the officer had received only minor injuries.
Ms McNamee, who along with fellow presenter Shane O'Connor was preparing for a radio show, saw a large crowd gathering in Hales Street.
She said: "We just saw a swarm of people completely fill this area right the way from the supermarket there down to the end of the park.
"People were spilling out of the club and within that there were pockets of fighting breaking out within different parts of the crowd."
Mr O'Connor said: "It looked like... one of those exercises with police and ambulance and fire service that they do when there's a terrorism threat."
A police investigation is under way and witnesses have been urged to come forward.
Ch Insp Kerry Blakeman said: "We certainly weren't aware of the event before it occurred.
"It would appear to be a gathering of people from across the country.
"It started off as a fight between two people within the premises that then spilled out on to the road.
"My officers reacted quickly within 45 minutes to restore calm, making five arrests."
The force said it believed the crowd had gathered at the club venue for a specific club night.
On the social networking site Twitter, people were talking about a "rave" event at the club called One Night Stand which they said had got out of hand when fighting broke out.
One Twitter user said she felt scared and had wanted to go home after glasses were smashed and thrown.
Attempts by the BBC to contact the club's owners have been unsuccessful.
Related Internet Links
The BBC is not responsible for the content of external sites.