IBM Warwick: legionella traces found in water supply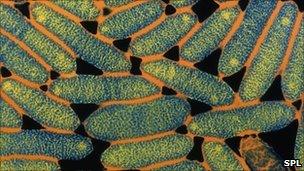 Staff at a Warwickshire IT company have been sent home over concerns that its water supply is contaminated.
Traces of legionella bacteria, which can lead to Legionnaire's disease, have been found at IBM's Opus 40 site in Birmingham Road, Warwick.
A spokeswoman for Warwick District Council said so far there were no reports of anyone being ill.
She added samples were currently being tested to establish the levels of legionella bacteria at the site.
A site manager reported the discovery on Wednesday and all staff were sent home on Thursday morning as a precaution.
Legionnaires' disease is an uncommon form of pneumonia caused by the legionella bacterium.
A spokesman for the council's environmental health team said legionella bacteria were common and can be found naturally in environmental water sources and any water supply.
But he added: "The system is now being treated so the levels do not increase to a worrying level.
"The objective in any water treatment system is to control the presence of legionella rather than to completely eradicate it.
"As far we are aware no dangerous levels have been found and the company is doing everything it needs to do to get the site back up and running."
He said the team will meet with the site manager on Friday and is waiting on further test results which will confirm what the levels are.
A spokesman for IBM said: "In accordance with guidance from local environmental health authorities, IBM has temporarily reduced staffing levels at its Warwick site.
"Client service remains unaffected. Remedial actions in place are being undertaken by the site landlord and the managing agents."
Related Internet Links
The BBC is not responsible for the content of external sites.