'First all-electric 4x4' Liberty E-Range is unveiled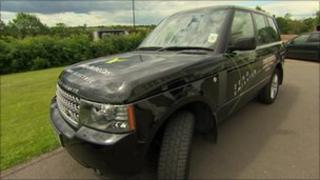 A Coventry firm has unveiled what it says is the world's first all-electric 4x4 vehicle.
The Liberty E-Range, a converted Range Rover, is capable of completing 200 miles (322km) without recharging.
Makers, Liberty Electric Cars said it had taken "firm and committed orders" for the vehicle.
Former workers at Modec, an electric van maker in the city, which went into administration in March have been taken on by the firm.
Despite the firm's collapse, Indian manufacturer Tata has taken on 23 people in the city to produce its electric model, the Vista.
Managing director of Liberty, Ian Hobday, said he believed the car, priced at about £160,000, would be in demand.
"It's a world first," he said.
More charging points
"It's the world's only luxury 4x4 that has zero tailpipe emissions, a top speed of 100mph, 200 miles with a single charge.
"We've taken orders from Scandinavia, while normally vehicles are imported with heavy import duties, (that) doesn't apply to any electric vehicles."
Last month, research conducted for the BBC revealed that only just over a tenth of electric car charging points needed in the UK have been built so far.
The Department of Transport has said it plans to install 9,000 points by 2013.
Industry experts expect that 8,600 electric cars will be sold by the end of this year and have set a target ratio of 1.8 cars for every publicly available charging point.
Modec secured a £23m grant from the US government in 2009 to jointly make electric vans for the American markets with US firm Navistar.
The company said at the time it went into administration that the deal had not produced as many orders as expected.