Lindsay Hawker killer must get life term - prosecution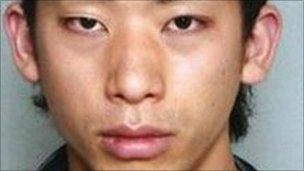 A Japanese man who has admitted raping and killing English teacher Lindsay Hawker should receive a life sentence in jail, prosecutors have said.
Miss Hawker, 22, from Brandon near Coventry, was found dead in a bath filled with sand at Tatsuya Ichihashi's flat, east of Tokyo, in March 2007.
Miss Hawker's father Bill has asked the judge in Tokyo to impose the maximum sentence for his daughter's killer.
Japan retains the death penalty, but it is usually reserved for serial killers.
Ichihashi denies murder and his defence claims that he suffocated Miss Hawker by accident when trying to muffle her cries for help.
The 32-year-old should face a lesser charge of inflicting injury, causing death, his defence team told Chiba District Court.
Prisoners given a life term must spend at least 10 years in jail before being considered eligible for parole.
A spokesman for The Embassy of Japan said: "It is quite rare for them to be released just after 10 years."
In 2009, six life prisoners were released and the average number of years they spent in prison was 30.1 years, he added.
Presiding judge Masaya Hotta is due to announce his ruling and sentence on 21 July after consultation with two professional judges and six citizen judges.
Related Internet Links
The BBC is not responsible for the content of external sites.