Coventry University students set for Silverstone race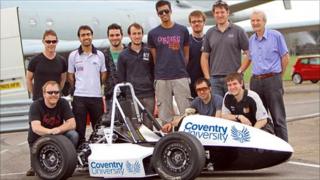 Coventry is one of the car capitals of the UK and a new kind of racing car from the city is set to take to the track at Silverstone.
Motorsport engineering students from Coventry University have spent the past six months designing and building a single-seater racing car.
The final-year students, known as the Phoenix Racing team, will be part of the Formula Student competition.
They will be up against 130 entries from universities in 31 countries.
Team member Rafael Lopez said: "It's a formula car, so it's an open wheel, single-seater race car with a bike engine - 600cc is a limit in the rules.
"The UK event is one of the biggest ones and we're fortunate enough to have it just a few minutes away [in Silverstone].
"It's one of the motorsport capitals around the world, it's a special place and the event as a whole, with a bunch of students with their own cars, it's going to be special."
At the start of the project, the students split themselves into teams, each working on different parts of the car in the university's motorsport workshop.
The same group of students came third overall in the Electric Vehicle Grand Prix at Indianapolis in May.
The competition is run by the Institute of Mechanical Engineers and is supported by Jaguar Land Rover and other names from the world of Formula One.
It runs for four days, beginning on Thursday, 14 July.