Leamington Spa family with ill son want bigger house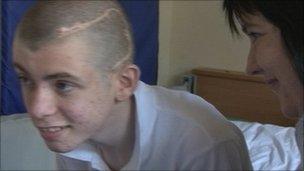 A fundraising event for a Warwickshire family with a severely disabled son raised enough money to buy him an automated wheelchair.
Jake Leach, aged 15, of Leamington Spa, has a rare condition which can cause him to have up to 70 seizures a day.
His family live in a two-bedroom flat but say they need a home which can be adapted to suit his needs.
Warwick District Council has said when a property becomes available it will be offered to the family.
Jake has Ohtahara Syndrome - a severe form of epilepsy which leaves patients severely disabled.
His parents act as his full-time carers and they also have a nine-month old daughter.
His father, Vic Allaway, said in the mornings they would hope they could hear him moving.
"If we don't, I am frightened to tap on the door and open it," he said.
"When I do see him wake up it is a blessing.
"I know one day he is not going to wake up."
Warwick District Council said the family had been awarded a priority banding.
A spokeswoman said they would be made an offer of accommodation suitable for their needs.
"There is a letter in the post today to advise them, we can't give a time scale at the moment because we do not know what properties will become available, but as soon as a property which is suitable becomes available, it will be offered to the family," she said.
Jake's mother, Dawn Allaway, said she would like to have a room big enough to turn into a sensory room for Jake.
The event, held in Tiddington near Stratford-upon-Avon at the weekend, was organised by Jake's family and friends.
Related Internet Links
The BBC is not responsible for the content of external sites.