Coventry University's Phoenix Racing team wins award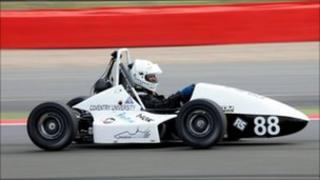 Motorsport students from Coventry University have won an award for the most fuel-efficient car in an international competition.
The third-year Phoenix Racing team competed at the Silverstone circuit at the weekend with more than 100 other universities from 31 countries.
The students designed and built the single-seater racing car for the 2011 Formula Student championship.
The project will form part of the degree course final mark.
Judges commended the students' design innovation for creating a gearbox powered by the engine's oil pressure, never before seen in the competition.
Dan Priestman, third-year motorsport engineering student and Formula Student project team leader, said: "We're delighted to have won the fuel-efficiency award against such stiff opposition, and it was great that some of our clever design features were acknowledged by the judges.
"It just goes to show that with some innovative engineering it's possible to beat teams with much bigger budgets, and I think that's what we're good at in this country."
Phoenix Racing's entry was in the top 20 winners overall, ranking sixth best UK university and top university in the West Midlands.
The University of Stuttgart was the overall winner.