Coventry's Stylusboy is a 21st Century man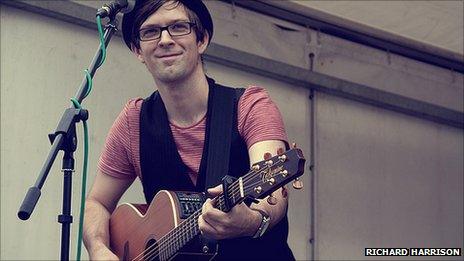 The BBC Coventry & Warwickshire Band of the Month for September is Steve Jones, also known as Stylusboy.
The singer-songwriter is quickly making a name for himself across the midlands and beyond, with a little help from the world of social media.
An avid member of Twitter, with over 500 followers, his fanbase is growing by the minute.
Stylusboy also released his third EP, Whole Picture, in June and it was most certainly a "labour of love".
He has also started bringing live music to living rooms - both in person and with the help of technology.
With a webcam and a computer, Steve regularly broadcasts concerts from his home to viewers on the internet.
Talking about the shows, he said: "Screen gigs have been brilliant fun. People have watched from France and Switzerland."
He also takes his guitar in person to homes to play intimate gigs, commonly known as a house concert.
It is clear that he cares about the music he produces and the art that surrounds the Stylusboy persona.
Sharing his passion for the homemade EPs, he said: "I have always been keen to make the CDs special. I have a fine art background and love putting together the EPs.
"They are a labour of love as each one has to be cut out and stuck together. People have been very appreciative of the efforts I have gone to."
It was also produced as a "name your price" EP and download where the listener can decide how much to pay. It also comes as a pair so that a copy can be passed on to someone else.
Talking about his hopes and plans for the rest for 2011, Steve added: "More live gigs, house shows and screen gigs, maybe a live album and all sorts of other things."
Having played various festivals this year, including Godiva and Greenbelt, it is clear he is going places - both in person and through cyberspace.
Related Internet Links
The BBC is not responsible for the content of external sites.