Warwickshire sex offender Simon Bayliss jailed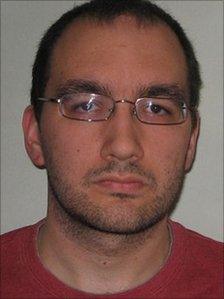 A man who was caught by an undercover police sting operation trying to abuse a young boy has been jailed.
Simon Bayliss, 29, of Bedworth in Warwickshire, was jailed for three years for trying to organise sexual relations online with a fictitious boy.
He also pleaded guilty to possessing indecent images of children.
Bayliss was sentenced at Isleworth Crown Court on Tuesday and may have committed offences against male victims in Bedworth, police said.
Following the trial, Metropolitan Police Det Insp Noel McHugh from the paedophile unit said: "Bayliss is a dangerous individual who made arrangements with an undercover officer to abuse a child.
"I have no doubt that had the child existed he would not have hesitated in committing a serious sexual offence."
Bayliss was arrested on 9 May and charged on 10 May.
He pleaded guilty on Tuesday to one count of attempting to facilitate the commission of a child sex offence.
He also pleaded guilty to four counts of possessing indecent images of children.
He was sentenced to three years and six months in jail, respectively, to run concurrently.
Related Internet Links
The BBC is not responsible for the content of external sites.