Urban Fruit Collective harvests unwanted garden produce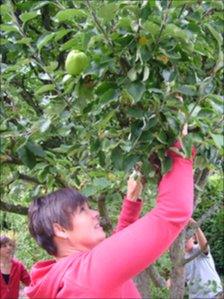 A group from Coventry has founded a scheme to make sure that fruit does not go to waste at harvest time.
The Urban Fruit Collective (UFC) came together to make sure that fruit growing in gardens is harvested and shared around the community.
It aims to make the local produce widely available and to enrol volunteers to help harvest for those who are unable to do it themselves.
Harvesting runs right through September and October.
UFC, based in the Earlsdon district of Coventry, was started by Rachel Adshead after she was inspired by reading about The Abundance movement.
The movement began in Sheffield in 1997 and aims to put unwanted fruit in gardens and public open spaces to good use.
Talking about the scheme so far, Ms Adshead said she had had an "amazing response from volunteer pickers and people who want their trees harvested".
Volunteer Mary Daley, who heard about the UFC in the local community magazine, said: "I thought it was a great idea.
"I've been struggling every year with my trees and sometimes there are so many [apples] that I haven't picked at all.
"It's nice to know that they'll be put to better use."
Related Internet Links
The BBC is not responsible for the content of external sites.