Dislodged weather vane safely removed from Coventry spire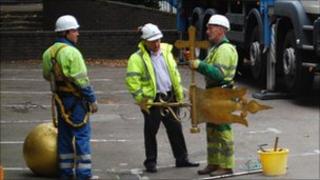 A large weather vane has been safely removed from the spire of a former church in Coventry.
The vane became dislodged in high winds and led to the evacuation of hundreds of office workers on Monday.
A 230ft (70m) cherry picker was used to reach the top of the spire of Christchurch - now Inspires bar - on New Union Street.
Contractors removed the orb and vane at about 11:10 BST on Tuesday. Both will now be assessed for damage.
Steeplejack Steve Waddingham, who removed the vane, confirmed its mounting boss had snapped.
Christchurch spire, along with those at St Michaels and Holy Trinity in the city centre, make up Coventry's three spires.