Coventry's Broadgate scheme: Political row breaks out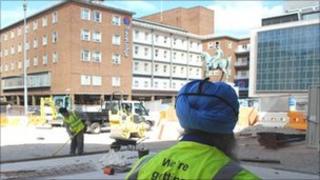 A political row has broken out in Coventry over plans to ban traffic from a city square.
The £7m project aims to transform Broadgate ahead of the 2012 Olympics when Coventry will host some of the football matches.
The plans are to create space for events in the square.
But the Labour-led city council's scheme has been criticised by Conservative councillors who say it will lead to a loss of business.
Rising bollards will be installed at each end of Broadgate to ensure the safety of pedestrians while allowing access for emergency vehicles.
'Very worried'
Tory councillor John Blundell said he thought buses should still be allowed to go into Broadgate with all other traffic banned.
He said: "We're very worried about the buses being stopped in Broadgate particularly for people who have disabilities.
"We're calling for buses to be able to remain in Broadgate.
"It's a waste of money at the end of the day. It's going to affect businesses and retailers in Broadgate."
The project is expected to be completed by spring next year.
But the city's Labour leader John Mutton said banning the traffic was what people wanted.
"Our original plans were to have a single lane through Broadgate that buses could use," he said.
"It was a result of the consultation that we held with over 2,000 people saying that they wanted a traffic free Broadgate, so we listened to the views of the people of Coventry and changed our plans."
The new square is being part funded by the European Regional Development Fund and the National Lottery.