Warwickshire project boosts confidence thanks to CiN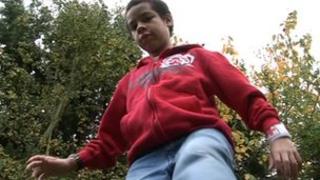 A Warwickshire mentoring project is boosting the confidence of disadvantaged young people, according to the mother of one of those who benefits from its services.
And thanks, in part, to a five-figure grant from the BBC's Children in Need (CiN) appeal, the Friendship Project for Children is able to continue to operate its befriending service through its six branches across the county.
At present there are up to 70 active friendships where a child (called a younger friend) is paired with a mentor (called an older friend) following recommendations made by social workers.
Since March 2009 Adam, 12, has been engaged in weekly activities with Coventry-based Jonathan Nott. The pair have been snowboarding amongst other things, with Adam admitting he enjoys "everything that I do with him".
Adam, who suffers from Asperger Syndrome, lives with his mother and five siblings (four sisters) and has had to cope with the death of his father.
His mother Yvette has noticed a change in Adam's behaviour over the past two years, including an improved relationship with his brother.
'Role model'
She said: "Having such a big family, and not being able to get out much, it's a good opportunity for Adam to get out and have fun and have a life.
"It's helped him to have a break from us, from always being in our company because he can get frustrated and it's boosted his confidence.
"Although he can be happy, it's made him a lot happier.
"Boys need a male role model in their life."
The project, which recently celebrated its 25th anniversary, has two co-ordinators. One looks after the branches in the north (Atherstone, Nuneaton/Bedworth and Rugby) while the other operates across the south of the county (Southam, Stratford-upon-Avon and Warwick).
A £15,000 CiN grant awarded earlier this year is being used to pay for the services of one of the co-ordinators for three years.
Building trust
Chairman John Hancock hopes to increase the number of friendships to around 85 next year, but admits that is dependent on securing the necessary funding and growing the project's capacity to support through additional volunteers.
Mr Hancock says the basic aim is to develop a trusting relationship in order for the younger friend to be able to discuss worries and concerns with their older friend.
Mr Nott agrees, adding the children "need the support of an adult mentor for a whole range of different reasons".
"We provide that support by taking those children on a weekly activity.
"Life isn't a level playing field for all of us and certainly Adam's been dealt a difficult hand.
"With the help of a very strong supportive family, school and other people in the community, he's starting to come through and is confident.
"We can work with children from the ages of six to 16 and we look set to continue the friendship and the mentoring until he is 16."