Bedworth couple's family deny 'financial worries' claim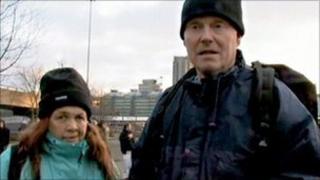 The family of a couple found dead at their Warwickshire home have said they did not think they had money worries.
The bodies of Mark Mullins, 48, and his 59-year-old wife Helen, were found when police broke into their Bedworth home on 3 November.
The couple, who had earlier told a documentary programme of their financial struggle, had not been seen for some time.
Warwickshire Police said the deaths were being treated as "unexplained".
No-one else is being sought in connection with the deaths.
'Lived in poverty'
Police have also appealed for anyone who knew them, or had any contact with them after 26 September, to contact them.
Det Insp Bob Jamieson said he was aware of reports suggesting the couple had lived in poverty and that this might have had a bearing on their deaths.
"Our inquiries so far have revealed that this was not the case and that the lack of finances was not an issue in their lives, nor was the alleged lack of any social care support an apparent factor either," he said.
In a statement, the couple's family said that as far they were aware the couple were in full receipt of any benefits they were entitled to and relevant agencies were in contact and supporting them.
In December 2010, the couple took part in a documentary about a Coventry soup kitchen in which they spoke of their troubles when trying to claim benefits.
This led to a charity worker calling for an inquiry into their deaths saying they had struggled to make ends meet.