George Eliot Hospital NHS Trust death rates higher than expected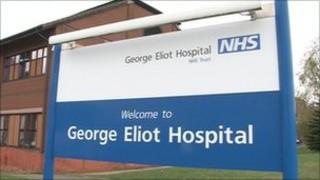 A Warwickshire trust recorded higher than expected mortality rates in two areas, research has shown.
The figures, relating to Nuneaton's George Eliot Hospital NHS Trust, were from April 2010 to March 2011.
In one category - deaths in hospital and within 30 days of discharge - 21% more people died than would be expected, research firm Dr Foster said.
The trust said an external review it had already requested over mortality rates would address the figures.
In October, it emerged mortality rates were higher than expected according to new measures. The trust had the highest rating in England after 1,024 deaths were observed in the year ending March 2011.
Only 843 had been expected according to a new hospital-level indicator.
The Dr Foster review has now said the trust had higher than expected mortality rates in two categories and in one of them - deaths in hospital - 17% more patients died than would be expected.
The trust said it had instructed experts to conduct the review after the Department of Health data was released in October.
It said it expected the results to be released in the new year.
Officials at the trust said the review would include exploring the quality and safety of care, the quality of information recorded and what, if anything, could be attributed to external factors outside the trust's control.
Trust chief executive Kevin McGee said: "We are taking the issue of this and other comparatively high mortality ratings extremely seriously.
"We expect the review to provide a reliable conclusion as to what we need to change to ensure our rating improves in line with other hospitals.
"We will act quickly to address any areas that will improve our rating and provide assurance to local patients and the communities we serve."
Dr Foster, which works closely with the Department of Health, said its findings needed to be investigated urgently.
Katherine Murphy, chief executive of the Patients Association, said she was "appalled" by the findings.