Coventry to Nuneaton rail upgrade given go ahead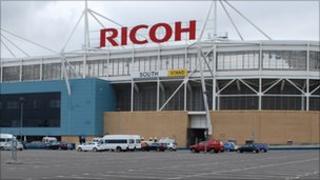 Plans to build two new railway stations and increase train services between Coventry and Nuneaton have been given the go-ahead by the government.
The blueprint for the upgraded rail link includes stations at the Ricoh Arena and Bermuda Park in Nuneaton.
The Department for Transport is putting £9.8m towards a total cost of £18.8m.
Warwickshire County Council, which is contributing £2.8m, said longer platforms would also be built at Bedworth.
Marcus Jones, Conservative MP for Nuneaton, said: "In Nuneaton we, as everywhere, have got numbers of young people that are unemployed.
"Those young people often don't have their own transport and this transport link will allow them to access jobs further afield."
The Coventry to Nuneaton rail upgrade was one of 21 transport schemes announced by the government on Wednesday.