Coventry bus lane to become more 'obvious' to pedestrians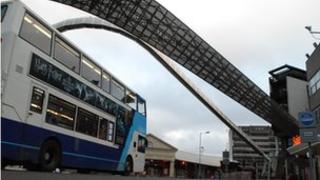 A bus lane in Coventry will be closed for about two weeks from the start of the new year in order to make the road more "obvious" to pedestrians.
The link road under the Whittle Arches, between Hales Street and Fairfax Street, will be closed from Tuesday, 3 January to Sunday, 15 January.
The work is part of a £7m project aimed at transforming the city ahead of the 2012 Olympics.
The city council says it hopes to make the area safer for pedestrians.
The road was originally traffic-free but that changed in 2006 when the authority, Conservative led at the time, allowed buses to drive under it.
A pedestrian refuge and the removal of a sandstone wall that protrudes on to the pavement form part of the planned improvements.
Coventry City labour councillor Lindsley Harvard said: "We're doing a number of things aimed at slowing buses down and making it more obvious to pedestrians that there is a road there.
"What we're trying to do is make the best of something we would not have intended to operate as a road at all."