Man arrested after flooding at Caradoc Hall flats in Coventry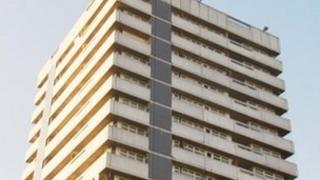 A man has been arrested in connection with flooding at a block of flats in Coventry.
Almost 200 people were evacuated from Caradoc Hall, in Henley Green, on Friday after part of a copper water mains pipe was stolen.
Residents returned to the flats on Tuesday night after being accommodated in local hotels.
Police said a 47-year-old man, arrested on suspicion of criminal damage, had been bailed pending further enquiries.
Flooding started on the 12th floor of the 16-storey flats at about 16:00 GMT on Friday
It caused damage throughout the block and started a small electrical fire on the ground floor.
An emergency rest centre was set up at Henley Green Community Centre on Friday night and about 80 people were later accommodated in local hotels.
Coventry City Council said all the agencies involved "really stepped up" in response to the incident, despite the flats being owned by a private landlord.