Thief's voice captured during Whitnash burglary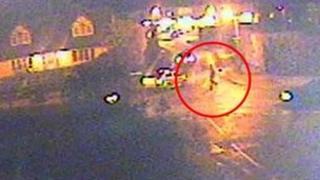 A knife-wielding thief has left an unusual clue in Warwickshire - a recording of his voice captured by his elderly victim's security alarm.
He broke into the home of a 96-year-old woman in Whitnash, Leamington Spa, at 20:00 GMT on Friday 16 December.
Detectives hope someone will be able to identify the offender from the audio clip, his description, and a CCTV image of him fleeing the scene.
The burglar is thought to be white and aged in his late teens or early 20s.
Captured on a Lifeline system - a personal security device - he told the woman he did not want to hurt her and ordered her to "put the phone down".
The thief, who was wearing a balaclava, asked for money, but left as soon as he realised the Lifeline device had been activated.
Officers have also published a grainy CCTV image of a figure, believed to be the offender.
Det Sgt Andy Smith said the young man was described as wearing a blue hoody and a white scarf during the offence, which left the pensioner shaken but unharmed.