Safety call after Coventry pensioner hit by bus in 'shared space' dies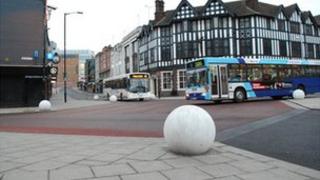 The niece of a Coventry pensioner who died after being hit by a bus in a "shared space" has called for traffic lights to be re-introduced.
David Thompson, who was partially sighted, suffered multiple injuries in the accident in January. The 71-year-old died in hospital on Sunday.
The collision occurred in part of the city centre where both vehicles and pedestrians have an equal right of way.
Margaret Thompson said if nothing was done "another accident" would happen.
She said her uncle suffered a shattered pelvis, two broken legs, a broken arm and lacerations to his lower leg in the accident which happened in Hales Street. He later had to have a leg amputated.
Ms Thompson said she wanted the council to "put the lights back up and keep pedestrians safe".
"With the traffic lights there he didn't struggle at all," she said.
"I think once the traffic lights had gone he would have struggled. Anybody would struggle."
'Accident black spot'
Coventry City Council, which has said it will not comment about the incident until after a police inquiry, began to introduce the new-style junctions at a number of places in the city last year.
There are currently three e-petitions, one of which is in favour of the scheme, on the subject on the Labour-led council's website.
Adam Rideout, from Stagecoach Midlands, the company operating the bus involved in the crash, said he remained "open-minded" about the areas.
"It is too early to tell if the Coventry scheme will prove to be a success or not," he said.
"We do, however, accept Coventry City Council's view that this particular junction was previously an accident black spot and that a shared space scheme cannot be judged on a single incident.
"Following the unfortunate accident that occurred a few weeks ago we have reminded all our drivers to proceed with appropriate caution into the shared space zones, as we do with any highly pedestrianised area."