Copsewood Grange could be turned into apartments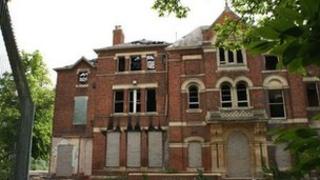 A former Victorian manor house in Coventry that has been listed as "at risk" could be turned into flats.
Copsewood Grange, built in 1872, has fallen into disrepair and there has been concern around its future.
Developers B L Goodman want to apply for planning permission to turn it into 15 luxury apartments.
Chairman of the Coventry Society Keith Draper said: "It's an idea we endorse wholeheartedly, we've been campaigning for its posterity for several years."
'Important asset'
Max Camplin from B L Goodman said if plans were approved, the grange, or manor house, would be divided into flats while the lodge in the grounds would be turned into a private house.
He said: "Plans are in the very early stage but it's a very large building so it makes more sense to split it up, the sale of those apartments will help pay for its restoration - we're talking in the millions."
Last year Save Britain's Heritage, a campaign group for historic buildings, added the property to its list of buildings at risk.
Mr Draper said: "As far as we're concerned the mansion and its grounds are an important asset to Coventry and of course we welcome this new opportunity to have the developers restore it."