Lee McGuigan jailed after Len and Ellen Breakwell die in collision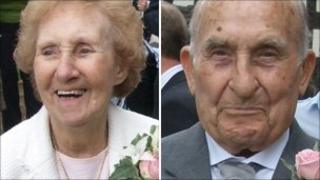 A drunk driver has been jailed and banned after he was convicted of causing the deaths by careless driving of an elderly couple following a collision last September.
Lee McGuigan, 37, of Spinney Road, Warwick was jailed for six years.
At Warwick Crown Court he was also banned from driving for six years
George Victor Leonard Breakwell, 95, known as Len, and his wife Ellen, 89, died several days after the crash in Bericote Lane, in Leamington Spa.
Their Ford Focus was in collision with a BMW driven by McGuigan on 5 September.
Suzanne Llewellyn, from the West Midlands Crown Prosecution Service, said: "McGuigan was over two times the legal limit in respect of alcohol in his blood at the time of the collision."
McGuigan was accused of two counts of causing death whilst under the influence of drink, two counts of causing death by careless driving and two counts of causing death whilst driving an uninsured vehicle.
Mrs Breakwell, a passenger in the Focus, died on 7 September, and her husband died five days later.
The couple lived in Yardley, Birmingham.