London 2012: Millennium Clock in Coventry to be removed for repairs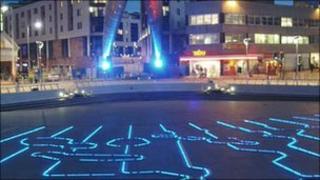 The Millennium Clock outside the Transport Museum in Coventry is to be removed for repairs.
In its place, a 25m (82ft) screen will be installed to show highlights of the 2012 Olympics and Paralympics.
The clock cost £5.5m and was installed in 2003 as part of a £50m project to regenerate Millennium Place.
The blue lines, embedded in the square, are set to be taken up in April and will not be put back down until September.
The city council said at least half of the blue bulbs were no longer working, frost-damaged areas had to be repaired, electrical cables needed checking and waterproof sealant needed replacing.
'Board the square'
There were suggestions in the past that the clock would be removed permanently, but Coventry council insisted it would return.
Martin Yardley, director of city services and development, said: "The clock is clearly in need of some work... and it seems very sensible for us to take it up completely to get it done properly.
"But I want to reassure everyone that it will be going back down. I have also been in touch with Francoise [Schein], the artist, to reassure her on this point.
"We will be putting on a number of events [in Millennium Place during the Olympics] - so temporarily removing the clock now, so we don't have to board the square over for the duration of the events, makes perfect sense."