Rugby park welcomes one of first pastor schemes in England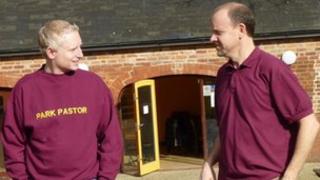 A park in Warwickshire is thought to be among the first in the country to operate a pastors scheme.
Matt Caldicott and Aaron Lincoln have started the new initiative at Caldecott Park, in Rugby, with the help of the town's borough council.
Rugby already runs a street pastors scheme - which sees volunteers patrol the streets to help people keep out of trouble on a night out.
Now the town centre park will also be covered with daytime patrols.
Mr Caldicott, said: "We want to connect with some of the 650,000 people who visit the park each year.
'Most visited'
"We especially want to connect with dads who bring their children to the park - there are lots of gathering places for mums and kids, but not so many for fathers."
Both pastors have young children and want to put on family and community events, including "dads and kids football" sessions.
Councillor Mark Williams said: "Caldecott Park is the most visited destination in Rugby town.
"Having safe, experienced volunteers on hand to help out will make the park an even more attractive place to visit.
"Being the first scheme of its kind in the country, I'm sure other towns and cities will be looking on with interest."