Warwick firms back Mary Portas town revival bid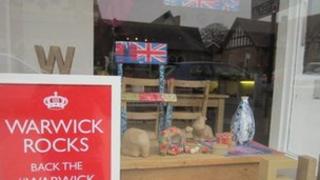 Businesses in a Warwick have pledged £70,000 to be part of a scheme set up by TV retail expert Mary Portas.
The firms have put up "match funding" as part of the project which will see 12 pilot towns get up to £100,000 of government cash.
Karen Massey, who has a photography business, said "every other shop" in the town was displaying "Warwick Rocks" posters in support of the campaign.
Ms Portas, who led a review on reviving town centres, will advise the winners.
Her suggestions have included affordable car parking and allowing more people to set up market stalls.
Ms Massey said there had been "massive support" in Warwick and she believed such community spirit would help the town's application.
Graham Todd, a manager at Underwood Wines, said social media had helped drive the campaign as the WarwickTweetUp website and his blog on the subject had received thousands of hits.
He said Warwick had many independent traders and the aim was to make the town more attractive and supportive of start-up businesses.
The team's application suggests improving the marketing of Warwick and its "branding".
Mr Todd said it could be confusing as there were many websites about the town.
"We also want to improve Market Square so it is used more by the community and again becomes the heart of Warwick," he added.
The winning towns will be picked later this year.