Friends of murdered Florida pair 'needed to represent them'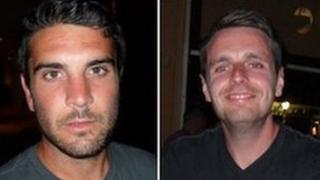 The friends of two British men murdered on holiday in the US last year have said addressing their killer in court was "something we needed to do".
James Cooper, 25, from Warwickshire, and James Kouzaris, 24, from Northampton, were shot in Florida.
Shawn Tyson, 17, was jailed for life after being found guilty of first degree murder on 29 March.
Mr Kouzaris' friend Joe Hallett said: "He was just 16-years-old and we needed to tell him all the pain he's caused."
Tyson shot Mr Cooper and Mr Kouzaris, who met at Sheffield University, after they mistakenly wandered into the Newtown area of Sarasota in the early hours of 16 April 2011.
Mr Hallett and a second friend, Paul Davies, who were old school friends of Mr Kouzaris addressed Tyson during the trial at Sarasota County Court.
'Just a kid'
Mr Hallett told the BBC: "After the pain we've been through in the last 12 months, it was all the feelings and emotions and we just felt we needed to say it to him directly.
"It was something we needed to do, it was looking into the eyes of someone who's completely ruined your life and changed the lives of their family and friends.
"We felt that we needed to represent the boys and their families, it just came from within and it was what everyone was thinking."
The men, who have set up a charity in honour of their friends called Always a Chance , said they did not know if Tyson would ever show remorse for his actions.
Speaking in court, Mr Davies told Tyson that "wearing a mask and shooting two guys in cold blood is being a coward".
Speaking of Tyson, he said: "He's just a kid, even if he shows remorse he can't take back what he's done and I'm not sure he'll be fully aware of the impact that it's had.
"He never really had a chance in life but that certainly isn't an excuse to do what he did and that's what we're struggling to come to terms with."