Web trolls: Mum's horror over abuse of Down's Syndrome daughter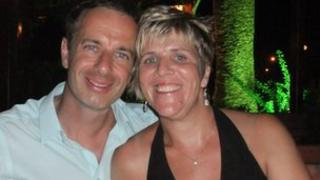 A mother says she is "horrified" photos of her daughter are again being used by "internet trolls" to insult people with Down's Syndrome.
Liz Crowter, from Coventry, found pictures of daughter Heidi, 16, on "derogatory and insulting pages" over the weekend. They were later removed.
She said the photos of her daughter as a toddler had been stolen from a website for a parents' support group.
Facebook said its rules aimed to prevent harassment or abuse.
Mrs Crowter said Heidi had been the victim of internet trolls "lots of times".
Heidi's pictures were taken from a local support group website, which Mrs Crowter ran for about five years.
Mrs Crowter shared her experiences of being the mother of a child with Down's Syndrome through the group and members also went on trips and holidays together.
'Feel violated'
In September, she found her daughter's picture on a Facebook page which insulted people with Down's Syndrome and other learning difficulties.
Some of the comments left about her daughter and other people were of a sexual nature, she said.
The mother-of-four contacted Facebook and also West Midlands Police, who she said informed her it was not a matter for officers.
Heidi's picture has been removed but the page remains, Mrs Crowter said.
Over the weekend Mrs Crowter was told by friends that Heidi's picture had been put on a new page which insulted people with Down's Syndrome.
Mrs Crowter said: "I feel violated and violated on Heidi's behalf. I'm disgusted that people can be so sick.
"It's not just Heidi, it's photos of other people's children as well."
She said she and her friends had reported the latest incident on Monday using Facebook's system to report abuse but the picture was still up on Wednesday. The image was later removed.
Mrs Crowter said Heidi was a "very independent young lady" who was studying for her GCSEs at a mainstream school and doing a hairdressing course.
"She's funny, stubborn and very kind," she added.
"We're all very upset and it and they [her other children] see her as a lovely sibling that they want to protect and support."
'Hate crime under-reported'
Facebook said that once images were reported using its online link , they were reviewed by its User Operations Team.
A spokesman for the firm said while there were "few controls" on behaviour and content across the web, Facebook had a real identity policy which made people accountable for their actions and behaviour.
"When people on Facebook do find themselves in a situation where they feel uncomfortable, we encourage them to use our reporting tools so the content or activity can be investigated," he said.
"We also have a set of rules that set out how people are expected to behave - the Statement of Rights and Responsibilities.
"These rules are intended to create a balance between enabling free speech and preventing harassment and abuse."
West Midlands Police confirmed it had received a complaint on 17 September but this was withdrawn after the photograph was removed from Facebook.
Officers who wanted to reassure the caller arranged to visit them on 22 September "to ensure no offences had been committed", a spokesman said.
"When they visited, it was established that the photograph had been removed along with the alleged insulting words and the caller did not wish to make a complaint," he said.
"All types of hate crime, including disability hate crime, are taken extremely seriously by West Midlands Police and the force is working to encourage victims to come forward and report offences."
He added hate crime "has traditionally been under-reported" and police were working with other agencies to pilot third party reporting centres, which allowed victims to speak to people they trusted in a familiar environment.