Knitathon for Myton charity appeal at Coventry Cathedral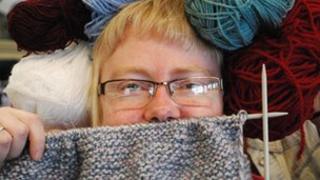 Knitters are to gather in Coventry to attempt to break a record for knitting while raising money for charity.
The Knitathon at Coventry Cathedral , for BBC Coventry & Warwickshire's Myton Nurse Appeal, has been organised by Vic Minett's afternoon show team.
The event on 12 April follows last year's knitathon, which raised money for Comic Relief.
BBC Coventry & Warwickshire launched the 12-month appeal last October to raise money for more nurses.
'Loads of fun'
Vic Minett said: "Last year's knitathon was amazing, we had just over 700 people helping us set a European record for the number of people knitting in one place.
"We'd really love to break our own record at least and perhaps even have a crack at the world record, although that's a massive ask as it's 1,100 people."
"Our main hope is that we raise loads of money for our Myton Hospice appeal and have loads of fun at the same time.
"I've never laughed so hard in my life as I did at last year's event, so here's hoping this year is as good."
Doors will open at 17:45 BST and participants are asked to raise a minimum of £5 in sponsorship or donation.