Stratford-upon-Avon security staff patrol 'alarming'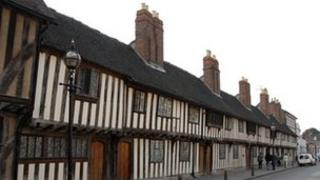 The introduction of private security staff to patrol Stratford-upon-Avon on weekend nights has been called "alarming" by the police federation.
Organisers of the £13,000 scheme said it would combat anti-social behaviour in Green Hill Street.
Chairman of the Warwickshire Police Federation, Simon Payne said it was a reflection on policing budget cuts.
A spokesperson from Warwickshire Police said that the street warden scheme was not connected to the force.
The spokesperson said the police supported such community groups and that incidents of crime in Stratford-upon-Avon were "low level".
The scheme has been set up by Stratforward and funded by local businesses and Stratford-on-Avon District Council.
'Proactive not reactive'
Mr Payne said: "We're somewhat alarmed - Stratford has a huge night-time economy.
"Police officers prevent crime - it isn't complicated and the sad thing is that this is the reality of the unfair cuts that are taking place in policing budgets."
He said the role of the patrols, which begin on Friday, should be carried out by police officers.
Chris Gregory from Stratforward said the marshals, who will be patrolling from midnight until 04:00 BST on Friday and Saturday nights, were all accredited security staff.
He said: "In this context we want them to be more ambassadors than bouncers - they can't replicate the police but they will have the power to hold people if there has been incident.
"We're filling a gap and using this as a tool between door staff who are static on the doors and the police who with their limited resources can only respond to major incidents.
"We're trying to keep the relatively low level problem low, we're being proactive rather than reactive."