Coventry cathedral ruins repair work gets funding boost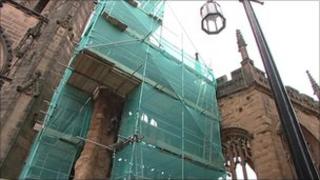 The restoration of Coventry's old cathedral ruins is to begin after a £77,000 grant.
Coventry Cathedral staff said the donation meant work to repair a crack that appeared in the south-west corner of the ruins could go ahead.
The cathedral's executive director Jane Woodward said the first phase would start in June and finish by November.
She said the cost of repairing the unsafe 14th Century building was £260,270.
Ms Woodward said: "We are delighted to have achieved this first milestone, however it is just the beginning and we hope that the public will continue to be as generous as they have been in the past."
In September she said a crack had "suddenly appeared" through part of the stone and scaffolding was put up around it.
Waste Recycling Environment Limited (Wren) has given the cathedral the £77,383 grant under The Landfill Communities Fund.
More than £350,000 was spent on repairs to the cathedral ruins in 2010, which was expected to make the building structurally secure until 2013.