Stratford upon Avon shop hit by car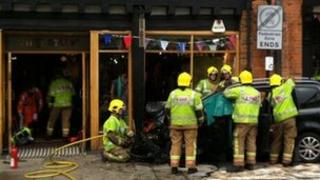 A number of people were injured when a car crashed into a shop in Stratford upon Avon.
Warwickshire Police said the accident happened at the junction of Bridge Street and Henley Street at 14:30 BST.
The casualties including pedestrians and the occupants of the car, a spokesman said.
Police said Bridge Street and Wood Street had been closed to traffic while the emergency services dealt with the incident.