Compton Verney Capability Brown chapel restoration appeal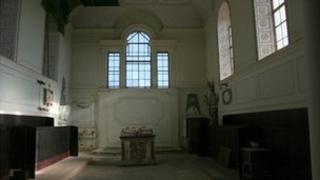 An appeal has been launched to restore the stained glass windows and interior of a chapel in Warwickshire designed by Capability Brown.
The chapel at Compton Verney was reopened to the public for the first time in 23 years at the end of March after restoration work to its roof.
The once derelict Georgian house containing the chapel is now an art gallery.
The estate was home to the Verney or Willoughby de Broke family.
It is now managed by the Compton Verney House Trust, an independent charity.
The first phase of the restoration work to the chapel was completed with funding from the Country Houses Foundation, the Pilgrim Trust, the Leche Trust and the Cleary Fund.
A spokesman said a significant sum of money was needed to complete the second phase of the restoration of one of "a handful of buildings" in the country whose design can been attributed to Capability Brown.
He designed the chapel in 1772. It took eight years to build and cost £981, the equivalent of £122,000 today.
The stained glass windows were taken out in 1931.