Tornadoes hit Rugby and Essex, residents claim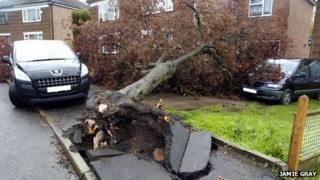 Suspected tornadoes have struck two areas of England damaging buildings and uprooting trees.
Residents in Rugby in Warwickshire said a tornado had "ripped a path" through properties toppling a chimney stack and knocking down fences.
Meanwhile, more than 100 miles away, farm buildings were blown down killing 20 chickens near Halstead in Essex.
No-one was hurt. Weather forecasters said there was a "small risk" of more tornadoes later in the week.
Essex Weather Centre said it had detected a strong thunderstorm in the Halstead area of Essex on Wednesday, which could have been a precursor to the tornado.
It said: "Further heavy showers and thunderstorms are expected over the next few days. The small risk remains of a tornado developing somewhere across the region, but is very unlikely in the same area as Wednesday."
Warwickshire Police said a number of homes were damaged in the Wentworth Road area of Rugby on Wednesday.
Resident Jamie Gray said the tornado had also "ripped a path" through properties in Glebe Crescent.
The tornado is believed to have struck Rugby at about 18:00 BST.
Another tornado is reported to have swept through the hamlet of White Ash Green in Essex at about 16:30 BST.
Farmer Alan Barrow said he was lifted off his feet and thrown to the ground. He said the tornado also blew apart his farm buildings and a chicken coop at Brook St Farm in White Ash Green.
Tony Blackwell said he also experienced the tornado in Essex which he estimated had lasted for about three minutes before moving off.
He said: "We had hailstones first of all and we came outside and we saw all the debris flailing and spinning around in a big circle in the sky.
"Then we could see all the trees bending over and we realised it was a tornado.
Whose trampoline?
"We get strong winds here but I've never seen anything like a twister before."
Roy Mushing, from Rugby, said he had gone out to to buy a lottery ticket when he was caught up in the high winds.
He said: "All of a sudden there was this big gush of wind.
"It bent the brolly up and spun me round and a good job it did because it spun me towards the bungalows where all the tiles was flying off the roof and flying into the main road."
He said he managed to make it safely back to his house in Wentworth Road.
Beryl Clarke, who lives in the street, said: "At about 5.45 there was a roaring and we thought something was coming through the front window.
"We rushed to the dining room and everything was flying up in the air, the greenhouse was going up, the glass was going everywhere.
"The shed came over the fence from next door, it was like something out of a film.
"Next door's got a trampoline outside their dining room and I don't know where it's come from. Everybody's got everyone else's stuff."