London 2012: Dancers gather in Coventry to mark Olympics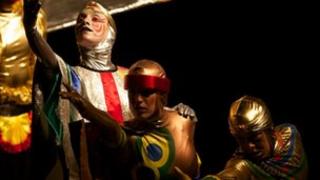 A dance performance, celebrating the London 2012 Olympics and promoting young performers, has taken place at the City of Coventry Stadium.
The Believe project brought together 450 performers, aged from four to 18, to celebrate the Olympic football matches being played there.
It was produced by Highly Sprung Performance and is the culmination of their Cultural Olympiad project.
The performance included kinetic carnival inspired costumes.
The children and young people who took part were from schools around Coventry, Warwickshire, Solihull, Birmingham and Staffordshire.