Labour gain in Coventry and Nuneaton and Bedworth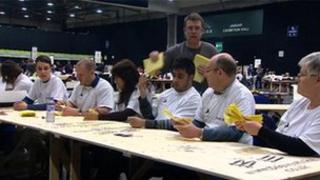 Labour have increased their majority at Coventry City Council and taken control of the authority in Nuneaton and Bedworth.
The party gained eight seats in Coventry to give them a comfortable majority of 32 seats.
The Conservatives lost six seats, while the Liberal Democrats lost their one. Socialist Alternative councillor Dave Nellist also lost his seat.
Labour took control of Nuneaton after gaining eight seats.
The Tories have retained control of Stratford-on-Avon District Council, where a third of the seats were contested, and also Rugby Borough Council.
Seventeen of the 34 seats were up for election at Nuneaton and Bedworth, which previously had no overall control.
The Green Party gained one seat while the Conservatives lost six seats at the council.
Counting has finished at Rugby Borough Council where all of the seats were up for election following a boundary review.
It created 16 new wards and reduced the number of councillors in the borough from 48 to 42.
The Conservatives are the largest party with 25 seats, while Labour are the main opposition with 10.
Council leader Craig Humphrey will resume his role as council leader with a working majority of eight.
Meanwhile, Coventry residents have voted "no" to having a directly-elected mayor run the city.
The city was among 10 in England to hold referendums on whether they wanted an elected mayor.
· All the latest election results are available at bbc.co.uk/vote2012