Jobs cuts at Daw Mill 'to keep colliery open'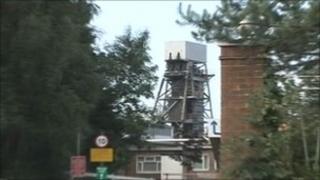 Up to 200 jobs are to go at the UK's biggest deep coal mine, a union says.
In March, UK Coal said it would be closing Daw Mill in Arley, Warwickshire, in 2014 putting about 700 jobs at risk.
The jobs cut plan is intended to help reduce costs and regulate production to keep the mine open, the Union of Democratic Mineworkers said.
Andrew McKintosh from UK Coal said it was "not out of the woods yet" but that it was "positive news".
The proposal means regulating production to about 1.7m tonnes a year, the union said. It currently produces two million tonnes.
The pit has had productivity problems in the past, including a four-month gap in production which cost it £75m two years ago.
UK Coal also recently agreed a deal with unions which included a new shift system and a two-year pay freeze.
Tom Gay, from the union, said the cuts were for the future livelihood of the mine.
"In a presentation to us last week, they said 200 jobs were to go - outside contractors and from the general workforce, some managers and some officials," he said.
"So that's going from 700 (staff) to 500 and it's accept that or no jobs at all.
"They want to reduce costs by reducing the manpower and regulate production at 1.7m tonnes a year.
"If we go for that then they will go to the board and ask for long-term investment and keep it open."
More than 50 people have volunteered for redundancy so far, Mr Gay said and 80 contractors have already gone.
"By September, we should have enough volunteers," he added.
Mr McKintosh said: "We all want what's best for Daw Mill which is the continuation really for north Warwickshire.
"But, it has to be on the right basis, of course."
Discussions with union were on-going, he added.