Fatal blaze 'no cause for concern' before deaths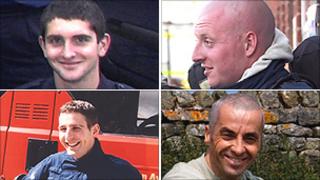 A fire which killed four firefighters was "not any cause for concern" before the men died, a court has heard.
Ian Reid, John Averis, Ashley Stephens and Darren Yates-Badley died in the blaze at a warehouse in Atherstone-on-Stour, in November 2007.
Managers Timothy Woodward, Paul Simmons and Adrian Ashley deny four counts of manslaughter by gross negligence.
Stafford Crown Court heard that Mr Woodward told police the fire "didn't seem particularly threatening".
The jury heard he took command of the incident around eight minutes before the four-man crew radioed through a distress call.
Extracts from his police interviews were read out in court.
'Raging Inferno'
Mr Woodward, 51, from Leamington Spa, told police he had made his way to a set of doors on the first floor of the warehouse to assess the fire.
He said: "I didn't know, obviously, what was going to happen, but it didn't seem particularly threatening beyond those doors.
"There was nothing that gave me any cause for concern regarding smoke or, as I had put my head through, some heat or noise that gave me [indicated] there's a raging inferno anywhere near that section.
"It didn't equate to me the seriousness of the fire, bearing in mind what happened afterwards."
He also told police that smoke initially had seemed to be concentrated in the eaves and that the building itself did not appear to be on fire at that time.
Mr Woodward, Mr Simmons, 50, from Hampton Magna, and Mr Ashley, 45, from Nuneaton, are accused of gross negligence, while working as incident commanders during the blaze.
Mr Simmons and Mr Ashley are also accused of breaching their duty of care to those who were killed by "exposing them to substantial risk to life when no other lives were at risk".
Mr Woodward is also alleged to have breached his duty of care to the deceased by failing to end the deployment of colleagues wearing breathing apparatus for the purpose of "offensive" firefighting.
The trial continues.