Warwickshire firefighters could 'simply have got lost', court hears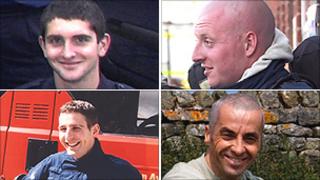 Four firefighters who died tackling a warehouse blaze in Warwickshire could have "simply got lost" in the building, Stafford Crown Court has heard.
John Averis, Ashley Stephens and Darren Yates-Badley died at the scene in Atherstone-on-Stour in November 2007. Ian Reid died later in hospital.
Manager Paul Simmons' defence said no-one could plan for a crew getting lost.
Mr Simmons, Timothy Woodward and Adrian Ashley deny four counts of manslaughter by gross negligence.
Neil Fitzgibbon QC put it to Dr Michael Dennett, an independent fire consultant, that the location of the bodies of Mr Averis, Mr Stephens and Mr Yates-Badley in relation to the remains of their hosereel suggested they might have got lost inside the fire area.
The court heard that hosereels are vital in guiding a way out.
Deliberate fire
Mr Fitzgibbon asked: "You cannot exclude the simple possibility in this case that Red-One simply got lost can you?"
Dr Dennett said: "No."
Mr Fitzgibbon then put it to him that if a crew "tragically just gets lost" that you cannot plan for that. Dr Dennett again replied "no".
The jury was reminded it is considering a fire that was started deliberately and told the firefighters would not have been aware of this fact.
The court heard that at least nine managers were at the site when concern for the four dead firefighters was raised.
The defence told the court that anybody who is a watch manager can become the incident commander if they happen to arrive at a fire first.
Mr Fitzgibbon asked Dr Dennett if any one of those firefighters could have said "cease deployments", to which the reply was "yes".
The court heard venting the roof was discussed by Mr Simmons and other firefighters and the idea had been dismissed.
Mr Fitzgibbon put it to Dr Dennett that at the end of the evening there were up to 80 firefighters and every senior Warwickshire fire officer at the site - and not one of them vented the building.
He asked Dr Dennett if they were all wrong.
Dr Dennett replied: "Yes, they were."
Mr Woodward, 51, from Leamington Spa, Mr Simmons, 50, from Hampton Magna, and Mr Ashley, 45, from Nuneaton, are accused of gross negligence while working as incident commanders during the blaze.
Mr Simmons and Mr Ashley are also accused of breaching their duty of care to those who were killed by "exposing them to substantial risk to life when no other lives were at risk".
Mr Woodward is also alleged to have breached his duty of care to the deceased by failing to end the deployment of colleagues wearing breathing apparatus for the purpose of "offensive" firefighting.
The trial continues.