The Enemy's cathedral gigs moved to new Coventry venue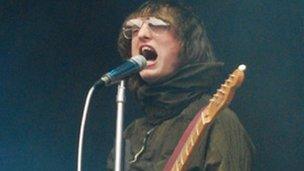 Coventry band The Enemy have cancelled two concerts in the city's cathedral ruins because of a number of health and safety issues.
Members of the group say they are "devastated" by the decision and their manager said he had been "fighting hard to find solutions to all the problems".
The city council said promoters had "been aware of the noise restriction issues right from the start".
The gigs on 21 and 22 May will now take place at Kasbah nightclub in Coventry.
The concerts in the band's home city will coincide with the release of a third album, Streets In The Sky.
Manager David Bianchi said the key point was "one of health and safety".
He said: "Everything from sound limits to road closures to the fire brigade deciding the amount of fire exits.
"This isn't something which I'm passing the blame onto anybody. It was a unique situation.
"With everybody's enthusiasm to make it happen I think a few things weren't thought about to the extent that they possibly should have done".
Councillor Faye Abbott, chair of the Labour-led authority's licensing committee, said plenty of work had gone on behind the scenes.
Ms Abbott said: "I'm sure everyone at the council is as disappointed as the band is."
In an additional statement, the council said: "We originally hoped they'd put on a free concert for Coventry fans in Broadgate, but the band then decided they'd rather perform in the cathedral.
"Since then we've been working with them and cathedral authorities on this plan.
"We were surprised and sorry when they told us they were moving the concert but are now talking to the promoters about working with them in the future."
Related Internet Links
The BBC is not responsible for the content of external sites.